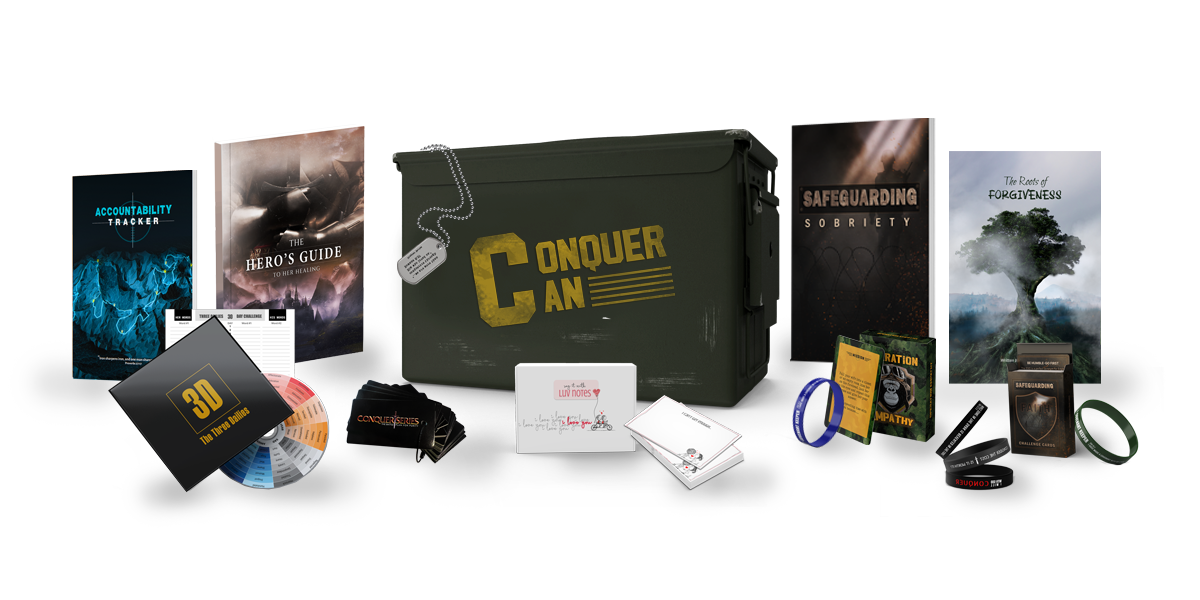 Conquer Can
$99.00
You made the right choice when you chose to walk toward freedom from sexual sin. We understand the battle, the challenges, and the work you must do to stay the course and help heal your wife and family. The effects of sexual sin doesn't just destroy your life; it destroys those you love.
We crafted the Conquer Can to help you devise a strategy to help you win! These tools will help you stay the course, be accountable, and guide you on how to help your wife heal.
We've designed it all to be simple, practical, and highly effective when you put them it use daily.
Included in your Conquer Can is the:
Accountability Tracker
The Hero's Guide to Her Healing
3D (The Three Dailies)
The Conquer Scripture Memory Cards
Luv Notes "Sweet Kisses" edition
Safeguarding Sobriety Journal
Safeguarding Sobriety Cards
Operation Empathy Cards
The Roots of Forgiveness
(6) Silicon Conquer Bracelets
Stainless Steel Conquer Dog Tag & Chain
You won't experience just how sweet the victory is until you've done the work to reclaim what the enemy has stolen from you. Get the can and battle to reclaim your freedom and your family.
Frequently bought together
We think you'll love this...
Frequently asked questions
How much does Soul Refiner cost?
Do I have to sign a long-term contract?
Can we purchase just one class?
Will I get access to the other classes?