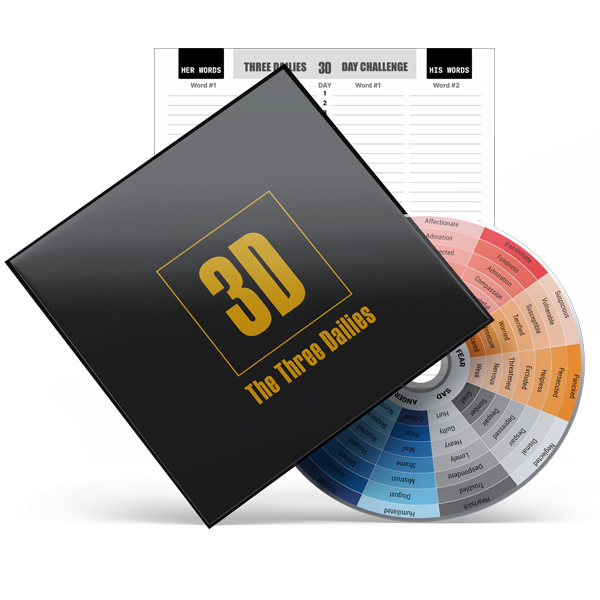 3D (Three Dailies)
$10.00
Sometimes the most straightforward changes can make massive positive changes in our marriage. The Three Dailies is a practice every married couple should practice to heal, strengthen, and ignite their relationship. We've created this simple guide to make it easy for you to remember and practice these simple actions daily with your spouse.
The Three Dailies, created by Dr. Doug Weiss to help deepen intimacy, contains three steps:
Prayer
Feelings
Praise
Prayer
Prayer sets the tone for how we respond to one another, connects us to the Father, and invites His presence into our lives.
Feelings
Let's face it, most of us haven't mastered sharing our feelings. We lack confidence and often just the right words to express our feelings. This feeling exercise is more than "tell me how you feel." It's a quick and simple way to deepen intimacy and develop empathy.
The "Feelings Exercise" is laid out for you, and all you have to do is use the Wheel of Emotions to find the word that best describes that feeling. This is an invaluable tool!
Praise
Your voice has a powerful impact on your spouse, whether positive or negative. Silence in a relationship is crushing and will kill your relationship. The praise exercise is an essential tool to nurture intimacy and strengthen connection. When this exercise is combined with the Prayer and Feelings Exercises, you will be amazed at the next level of intimacy you will experience in your marriage.
Frequently bought together
We think you'll love this...
Frequently asked questions
How much does Soul Refiner cost?
Do I have to sign a long-term contract?
Can we purchase just one class?
Will I get access to the other classes?